Compare Primary Care Doctors' Offices
Finding the right provider in Massachusetts is easy. Use this website to compare primary care doctors' offices based on how well they care for their patients.
Recognizing that 2020 and 2021 were unusual years in healthcare due to the COVID-19 pandemic, MHQP has decided to use a hybrid methodology for reporting the scores for our 2021 Clinical Quality Report. We compared a practice's 2021 performance scores to its 2019 performance scores for each measure. We then selected the higher of the two scores to report on this website. We believe that this is the fairest approach, given the plethora of challenges practices have faced during the pandemic.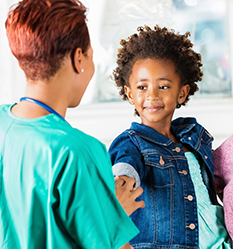 What's New...
(February 2023) This site includes the results from MHQP's 2022 Statewide Patient Experience Survey and 2021 Clinical Quality Report. The winners of MHQP's annual Patient Experience Performance Awards are identified by a star logo.
Click here for a list of award winners.
Thoughts about quality care…
"After my doctor left his practice, I thought I had to start from scratch to find a new doctor. Ratings from the patient survey were very helpful in choosing my new doctor and office."
-Margaret, Wellesley